Carl Plans For the Future with Charitable Gift Annuities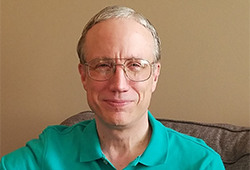 The Salvation Army in Western Pennsylvania is blessed to have a friend like Carl. He began his relationship with us many years ago, giving annually to important programs. Whenever we have special fundraising drives that include a matching gift option, he jumps on board to get others to support us. A few years back he informed us that he had included The Salvation Army in his estate plan and he has consistently donated to our Gift Annuity Program.
Carl truly cares about our work in his community and wants it to continue for years to come. He is the first to call us with ideas or information that he thinks will help us to care for those in need. He just doesn't make donations to a worthy cause; he partners with us to get the job done!
According to Carl, "I started making annual gifts to the Salvation Army shortly after my college graduation. I had always admired their work in seeking to help those in need around the world, but I was also specifically interested in donating because my cousin was working at that time at a corps location in New England. During the four decades since then, I have focused on supporting organizations that provide food, clothing, shelter, medical/dental care, and other necessities of life. I try where possible to give to Christian organizations, because I want others to learn about the love of Jesus in addition to having their physical needs met. The Salvation Army has continued to be one of my favorite charities because it is both a church and a social service provider, and because it has continuously refused to compromise its beliefs despite worsening societal pressures. After I had successful cancer surgery five years ago, it became clear to me that I needed to think about my estate plans in addition to making annual gifts. I concluded that Salvation Army charitable gift annuities were a good way to receive income during my life, while getting a current charitable income tax deduction and guaranteeing that my support for the Salvation Army will continue far into the future. I would encourage annual donations and/or planned gifts now by others. Even though the worst of COVID-19 appears to be over in the U.S., the effects of COVID-19 will continue to be felt throughout the world for many years to come, and governments cannot provide all of the assistance that will be needed.
Is a charitable gift annuity right for you?
The payout for charitable gift annuities will vary depending on the age of the donor. Please
contact us
to inquire about current payout rates or if you have any questions about charitable gift annuities.
*Please note: Since your gift annuity benefits may be different, you may want to
click here to view an example of your benefits
.