Stacia Straley, a Lasting Impression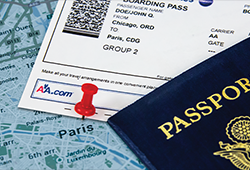 Cherished childhood memories greatly influenced Dr. Stacia A. Straley to include a gift to the Salvation Army in her will and name the organization as the beneficiary of her retirement accounts. As a child Stacia's family lived in an apartment building in the northern suburbs of New York City. She befriended a girl living in an apartment upstairs. She often visited the girl's family, who were British, and always considered them to be an example of how a real family should be. It was World War II and she recalled fondly how they always had a bowl of chocolates. Her friend's parents were Salvation Army officers. It impressed her that the mother put on a 'suit' each day and went to work. This instilled in Stacia a realization there were opportunities for women outside of the home and she too could have dreams for her future.
Stacia had a difficult home life growing up and the relationships within provided many bitter memories for her. As she shared about past events her tone was harsh and cold. As soon as her conversation steered to her interactions with the Salvation Army her manner would become calm and a smile would come to her face. She often would think back to the Salvationists, their kindness, and role modeling as good parents. These memories would keep her going as she grew up and she would never forget their positive influence on her life.
As soon as finishing high school, Stacia went off to college and eventually completed her PhD in political science. An exciting opportunity came along and Stacia became a clerk at the International Court at the Hague. She loved working internationally and having experiences that she once never thought would be possible for a woman. Once retiring from the U.S. State Department as a Director of International Law, she returned to the United States and settled in Ohio to teach Political Science and International Law at Muskingham University.
Throughout her life Stacia always desired to have a family of her own and relationships such as the those she had witnessed as a child through her experiences with the Salvation Army. While this was not in God's plan for Stacia, she still had a strong desire to have a positive impact on the lives of children living in difficult situations. The Dr. Stacia A. Straley Endowment, established through her estate gifts, is her legacy and how she decided to make a difference in the lives of others in the Central Ohio area. This fund provides financial support for programs or services for children and families with children.
Is an endowment gift right for you?
If you would like to learn more about how you can make a gift to our endowment, please
contact us
. We would be happy to work with you to structure an endowment gift to meet your charitable goals.