Helping to Feed the Hungry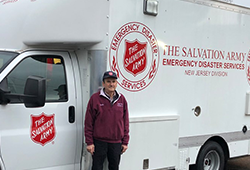 Charles Parkerson, an advisory board member for the Trenton Citadel Corps.
In November 2018, God touched Charles Parkerson's heart. A Trenton, N.J., native and successful businessman, he felt a deep calling to serve his community through The Salvation Army more than ever before.
"The main reason I got involved is to give back to the community," Parkerson says. "I own a business in Trenton and I'm a believer in hands-on volunteering."
The owner of Capital Fire Protection, the 69-year-old Parkerson said he doesn't let his age keep him down.
"The community has always been good to me and I'm a strong believer, especially in my senior years, that I need to give back to the community and to people who are less fortunate than myself," he says. "I've been blessed with being fairly successful. I've always had a steady income and I just felt like I'd like to give back."
Parkerson, an advisory board member for the Trenton Citadel Corps since 2018 and a faithful bellringer each Christmas, knew that The Salvation Army had a canteen program which served in the aftermath of 9/11.
A Ministry on The Move
In October 2018, Major Elijah Kahn, corps officer, decided to start the "Trenton Citadel Mobile Feeding Program."
Parkerson, better known around the corps as "Charlie," heard about the program at an advisory board meeting and approached the Trenton Rotary Club about making a commitment to The Salvation Army to assist the canteen with at least two Rotarians every time it went out on its regular run. The Rotary agreed and in January 2019, commenced the effort.
When Lieutenants Alan and Isabella Porchetti arrived in Trenton in the midst of the current pandemic back in August 2020, Lieutenant Alan noticed something special about Charlie.
"It was evident that Charlie's passion revolved around this wonderful canteen ministry," he said.
Every Friday, the canteen workers serve about 180 meals and give 60 food boxes to the community. Parkerson said the canteen makes four stops: two at low-income senior housing centers and two at street corners in Trenton.
Parkerson, a Catholic, said the work is "extremely satisfying" for him.
"These people are so grateful for us coming out and giving them a meal and whatever else we manage to scrounge together," he said.
COVID-19 has been a huge challenge for the corps, which had served 16,000 meals as of December, Lieutenant Alan said.
"Ever since COVID-19 started, our numbers have gone up," he said. "This is the result of an increased number of individuals and families who are struggling and considered to be at-risk.
Facing Big Challenges
"However, this ministry was facing a great challenge—our old canteen vehicle itself. The corps desperately needed a new vehicle that could represent The Salvation Army and be a mobile place where people could be served with dignity."
Lieutenant Alan reached out to the New Jersey Division's Emergency Disaster Services (EDS), but initially found no funds available. Lieutenant Alan knew he had to be persistent. As the demand kept on increasing due to COVID-19, Parkerson and the canteen ministry were committed to serve the community, rain or shine.
"As an officer, I always encourage all those who join our team to persevere." Lieutenant Alan said.
Parkerson felt another challenge would be the typical reappointment of corps officers in August 2020. His biggest fear was that the ministry would disappear.
Lieutenant Alan said, "There is nothing better to know than that we can continue to serve, even in the midst of a pandemic, in God's name, every Friday night. When we pray, God continues to show His faithfulness."
When God Answers Prayer
After almost four months in Trenton, Lieutenant Alan, Parkerson, and John Murphy, another Rotarian, received training on how to operate the biggest canteen in the New Jersey Division. A few days later, Lieutenant Alan received a call from EDS. More than a "thank you," the Lieutenants Porchetti, Parkerson, and Murphy learned that they were getting a new canteen for their faithful ministry—the canteen they were praying for and so desperately needed.
"There is nothing more fulfilling than to know that we can serve our community by bringing a warm meal to all those who are facing food insecurity in the current times," Lieutenant Alan said. "Yes, COVID-19 has brought many obstacles and challenges, but it has not stopped us.
"If we can continue to serve in the midst of a pandemic, we can continue to serve under any other circumstances. That is because God continues to be with us and continues to be with a faithful Salvation Army."